nismo 2 way LSD
01-08-2006, 10:04 AM
Registered User
Join Date: Jan 2006
Posts: 5
nismo 2 way LSD
---
Hi,
I have a JDM Nismo R180 2 way limited slip differential with axles.

This item was removed from a 1995 Nissan S14 Silvia with SR20DE manual transmission in Japan.
This differential has approximately 30,000 miles and it is in very good condition.

Applications:
Nissan 240z, Datsun 260, 280, and interchangeable with R160 on the Datsun 510.

Non ABS
Gear Ratio: 4.08

Pictures are available upon request

if interested let me know
located soCal
01-09-2006, 07:32 AM
Originally Posted by 180sxidewayz
the unit came off from jdm s14 with sr20de instead sr20det and it uses r180 intead r200

let me know your email address i will send you the pictures via email.
thanks
[email protected]
Thanks!
01-09-2006, 01:31 PM
Just an FYI... That differential won't fit in a "pre-1990" Z without a ton of modifying... (either fab up a custom design, or use the rear suspension from the 240sx).
Lets compare: The S13 - S15 diff is shorter & fatter than the Z's.
S14 LSD: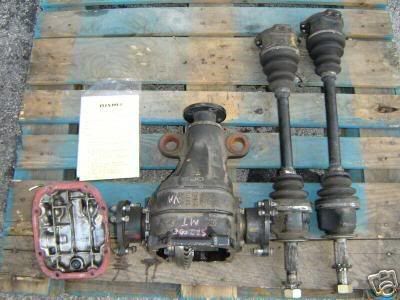 280zx - Z31T diff:
01-10-2006, 07:53 PM
Registered User
Join Date: Jan 2006
Posts: 5
thanks for your info,
i didn't know they use different diff housing,
the seller who sold it to me told me that they would fit into the application i listed
do you know if you could just swap the lsd into z diff?
Thread
Thread Starter
Forum
Replies
Last Post
FS: 240Z,260Z,280Z & 280ZX (70-83)
240Z, 260Z, 280Z (S30) Forums