What engine is this??
03-01-2007, 11:21 AM
Usedta be Justin260z
Join Date: Jan 2007
Location: Oklahoma City
Posts: 722
What engine is this??
---
I ran across this photo surfing the interweb today, and I cant figure what it is exactly. These kind of things just bother me.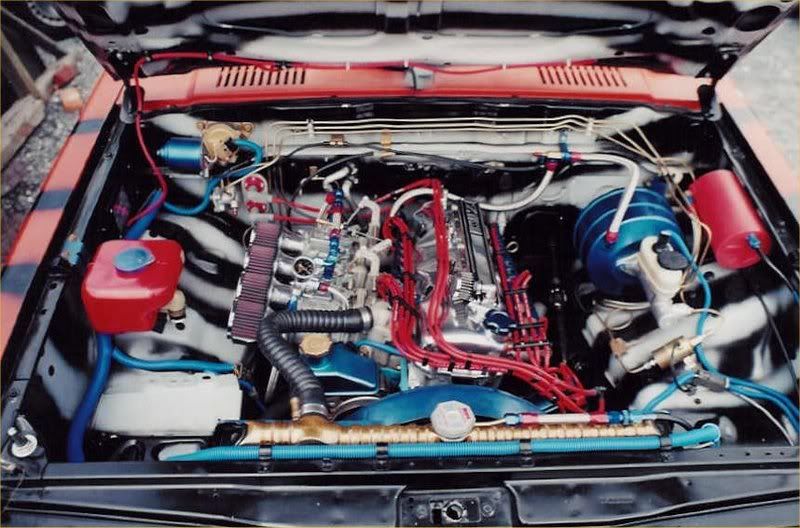 Its in an off road race truck, Nissan of course 80's model.
03-01-2007, 12:14 PM
Originally Posted by justin260z
Why all the plug wires, theres like 10. and they're on both sides of the head.
Two spark plugs per cylinder ol' chap. And there are 8 sparkplug wires + 2 to the coil / dizzy.
03-04-2007, 05:51 PM
Originally Posted by Bleach
ya, not a very good engine anyway.
KA24e(de) is much better
Hey just wanted to say the Z22 engine I had in my '82 Datsun King cab pickup, was indestructible. It had over 750,000 miles on it, and only had a water pump, headgasket changed. Of course it got it's basic tuneup and oil changes and such. I had to junk the truck back in '94, because I flipped it and bent the frame and such. As far as I know to this day, that same engine I had, is still running strong in a different Datsun truck body. It also had quite a bit of power for a 4 cylinder, and it had a 5-speed to boot. I really still do miss that truck, and I would love to find another one like it. It is hard to find one within my price range. But I still do want another truck, they are quite handy to have around.
The Z24 engine I had in my '86 Nissan 4 x 4 was great also, except for the fact some moron cross threaded my spark plug holes. And I didn't want to screw with having them re-threaded. And of course this truck is how I got my first Z. My '81, I used the truck as a trade for the Z. Otherwise the truck was great, other than the fact it only had a single cab. And there was not verry much legroom in it. That was another reason, I didn't keep it.
Anyway just wanted to state that the motors were great, and because you were saying they weren't that great. I had to prove they stood there own ground. I am done for now man, don't take offense to it. Just had to say my 2 cents on it.
03-05-2007, 12:08 AM
750,000??? I don't believe that... and if you ever have to change a head gasket on a Z-series engine you'll be lucky if it ever works again. A water pump that lasts a half million miles? The heads are not very good flowing heads either.
from many, many others' experiences they're still not a good engine
Thread
Thread Starter
Forum
Replies
Last Post
300ZX (Z32) Performance / Technical