Chase Video at VIR North couse 240Z, E30, 350Z, Mustang
04-13-2006, 07:58 AM
Registered User
Join Date: Oct 2004
Location: Raleigh NC
Posts: 106
Chase Video at VIR North couse 240Z, E30, 350Z, Mustang
---
Here is some vid of me chasing my buddy in his E30.... we are held up by a Mustang and a 350Z with some mods.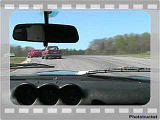 better version:
<IFRAME SRC="http://videos.streetfire.net/iPlayer.aspx?fileid=02F7DCCB-5743-4B87-8CE0-AADC0E9D9C5E" WIDTH="470" HEIGHT="375" FRAMEBORDER="0" MARGINWIDTH="0" SCROLLING="no"></IFRAME>
The second lap is faster... after we got past the Mustang... The 350Z gives it a go but can't shake us... I hang back.. so as not to be a third car in the pileup if the 350Z looses it....
I attempt to time myself in the curvy part to catch up to them at the exit to the straight... I never did get a good top speed run on the straight in these laps... but I am getting to around 115MPH after the tower... a good exit onto the straight would get me around 120MPH just past the tower...
Braking distance sucks in these shots...I can brake from 120MPH to ~35?MPH from the just before the 200ft marker if I have a clean run at it...
It was fun running the train with a few quick cars... no pansies there... We have all run off and done damage to our cars in the past... some worse than others... My record is pretty good so far... I did some right front damage on VIR South course last year... but nothing that wasn't easily fixed...
---
Last edited by bjhines; 04-18-2006 at

11:11 AM

.
04-16-2006, 07:47 PM
Registered User
Join Date: Oct 2004
Location: Raleigh NC
Posts: 106
liscensed insured and inspected....mostly stock 240Z... track prepped with better brakes, better carbs, OEM type cut/stiffer springs...225/50/15 Victoracers...4 point hoop and strut tower reinforcements.... adjustable suspension set for track use only.
It has a full interior(for what that's worth)... all steel body.. It is only 2200lbs soaking wet... 150RWHP.... 7500RPM redline with a stock 4 speed tranny and a 3.54 R180 rear end.

I removed the bumpers, mounts, lower front valence, smog related hardware, airpump, brackets, lightweight alternator, lighter flywheel, lightweight battery, I removed all unecessary hardware, bigass steel vapor canister... etc.... pretty much anything emission related that was not WELDED to the chassis...
---
Last edited by bjhines; 04-16-2006 at

07:55 PM

.
Thread
Thread Starter
Forum
Replies
Last Post