***AAM Summer Nissan Meet- 7/13/08 ***
06-09-2008, 01:47 PM
Registered User
Join Date: Jun 2008
Posts: 3
***AAM Summer Nissan Meet- 7/13/08 ***
---
Here's my very first post everyone. Long time lurker, first time poster, lol. I wanted to let everyone on Z Driver know about the huge Nissan/Infiniti meet/open house we'll be having at our shop in June! Almost all the info you need is listed below, but if you have any other questions, feel free to send me a pm or call us at the shop at 301.330.8835.
Here it is: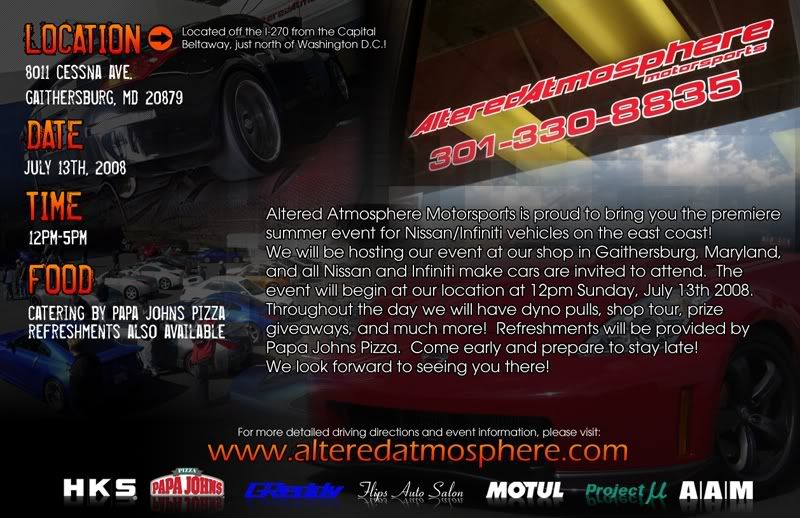 AAM SUMMER 2008 NISSAN MEGA MEET


SUNDAY JULY 13th 2008

***DYNO/CAR SHOW/PRIZES***


Altered Atmosphere Motorsports
is proud to present our 2008 Summer Nissan Meet! This is a huge event day that we organize for the Nissan community and we would like to all Nissan/Infiniti vehicle owners, friends, and family to attend! This will be an awesome Mid-summer meet and a great chance to check out some of the wild Nissan and Infiniti Vehicles we've put together over the winter!
We will be starting the day at 12pm at our facility where we will be providing food and beverages for all to enjoy. Our DynoJet Dyno Machine will be open for runs at a
special discounted rate of $50 for 3 pulls with A/F
(normally $85). We will also be
reflashing 350Z & G35 ECU's at a discounted rate
!
*** AAM SPEC VQ35HR ECU FLASH DEBUT!***
We will have the ECU Flash for HR Series engines available just in time for this event!
We will also be unveiling some of the most innovative technology in the country as far as custom building motors for the 350Z/G35. Our newly acquired
Sunnen SV-10 and Sunnen RMC V40 CNC and Engine Milling machines
will be running demonstrations on blocks all day! Of course we will have our AAM
Infiniti G37TT
,
Nismo HR 350ZTT
,
Custom AAM turbo 350Z
and other monster shop cars, available for viewing at this Event!
Food/Refreshments:
-Pizza from Papa Johns available for all
-Soft drinks, Water, and other refreshments
Dyno:
-$50 for 3 Baseline Pulls w/ Air/Fuel measurement (print-outs provided for your records)
TO SEND PAYMENT VIA PAYPAL:
Send payment to
[email protected]
Also, be sure to enter your information, including:
Name
Vehicle Make
Vehicle Model
Vehicle Year
Transmission Type: (AT, MT)
-Speak with our knowledgeable staff about recommended tuning and upgrade paths.
-Pictures and video of Dyno Run available upon request
***FIRST 10 VEHICLES TO REGISTER THROUGH PAYPAL GUARANTEED A DYNO RUN***
All participants planning on putting their vehicle on the Dyno machine must contact us to register their vehicle 48 hours prior to the event date. Pre Pay is readily available through PayPal. Pre Pay customers who register their vehicle 48 hours in advance receive first priority, will be served in order of registrations received, and will receive a free AAM Competition T Shirt!
***Please note: Due to time constraints,
LIMIT 15 TOTAL VEHICLES
placed on the Dyno for the entire duration of the Event.***

Raffles/Discounts:
-Various products from AAM Competition, HKS, Tein, and Project M available to win!
Discounts!!!
-Special Discount on In-Stock Parts
-Discounts also available on Special Order parts from our Vendors including products from ARC, HKS, Greddy, Espelir, Tomei, and more!
ECU FLASH SPECIAL DISCOUNT:
-15% off all AAM Spec ECU Reflashes ***LIMIT 5 CUSTOMERS***
-Register to have your vehicle's ECU Reflashed by sending an email to
[email protected]
Event Stats:
Date: Sunday, July 13th, 2008
Time: 12:00 PM- 5:00 PM
Where: Altered Atmosphere Motorsports
8011 Cessna Avenue
Gaithersburg, MD 20879
Contact: 301.330.8835
Email:
[email protected]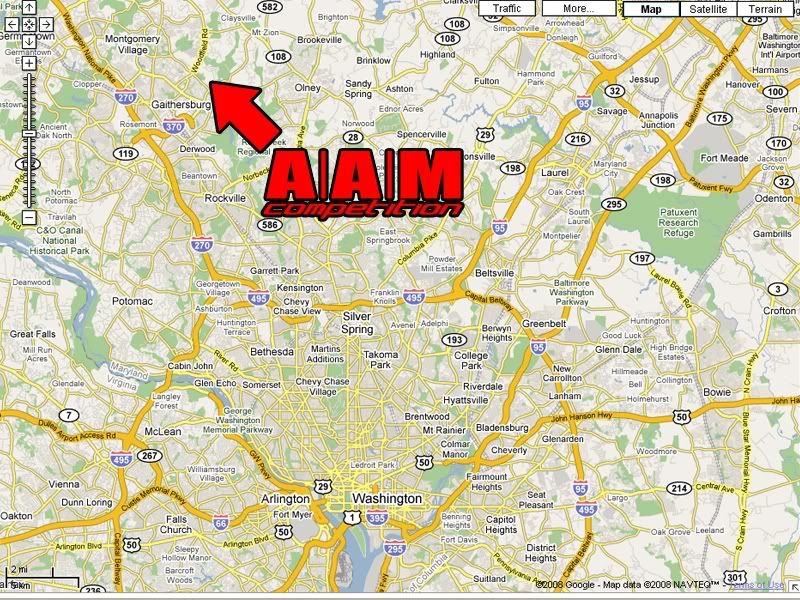 Thread
Thread Starter
Forum
Replies
Last Post